Getting into the swing

(and rumba and tango and foxtrot ...)

of things

Sunday, March 07, 2004

By ANNE LEVIN

Staff Writer, Trenton Times

Sometimes Candace Woodward-Clough feels like a marriage counselor. Stepping between a couple to help them negotiate a rumba, tango or foxtrot, she can get caught up in the dynamics of a testy relationship.

But that's all part of the job for the vivacious blonde, one of the busiest dance instructors in the area. Woodward-Clough has been teaching ballroom dance classes for the past decade at her studio in Hightstown, the Princeton YWCA, the Montgomery Recreation Center and elsewhere, building a following of loyal students.

Her latest roster of classes in Hightstown, known as "Dancing by The Peddie Lake," begins tomorrow.

Then there are the musicals she choreographs - most recently, "Footloose" at The Peddie School in Hightstown, where she also teaches dance; "Annie Get Your Gun" at Hightstown High School; and "Jekyll and Hyde" at Jonathan Dayton High School in Springfield. (Woodward-Clough's husband, actor Bruce Clough, is directing that show.)

Despite her demanding schedule, Woodward-Clough goes out of her way to give even the most challenging students the time they need to conquer a step.

"There was one fellow I had to spend a full hour with on a basic swing step," she says. "I can be patient. I just repeat and repeat. But that kind of thing is rare. That's an extreme example."

Many of the couples who take Woodward-Clough's classes fit a typical profile: The enthusiastic female has convinced the reluctant male to attend.

"Most of my men come in saying `I have two left feet,' " Woodward-Clough says. "I tell them I don't really think they do. In our society, girls go to dance class and little boys play sports, so they think they can't do it. But I tell them dancing is shifting weight, and they're fine."

Dance didn't come into Woodward-Clough's life until she was 15, an advanced age for a dancer - and she had to defy her mother to undertake those first lessons.

Raised in West Hartford, Conn., she had wanted to dance from an early age.

"My mother had a friend who had been a dancer and had developed arthritis, and she assumed that would happen to me," she recalls. "Finally, I just went on my own. I started modern dance and was a natural. I loved it.

"And I don't have arthritis."

Woodward-Clough entered the University of Connecticut

intending to become a veterinarian, while minoring in dance.

One of the physical education teachers asked her one day

if she would teach a dance class.

"Afterward, the teacher told me I had the natural personality

for teaching," she says. "And I loved it. So I changed my

major and got a degree in theater and dance education."

After graduation, Woodward-Clough taught jazz and theater-dance classes at Cornell University. She began to explore ballroom.

"I really knew nothing about it," she says. "I grew up in the '60s with the hustle. But I got trained and fell in love with it, and I've been teaching ballroom since 1977."

In the early 1980s, Woodward-Clough moved to Manhattan, but her dreams of teaching weren't immediately realized.

"I found that you just can't walk into Manhattan and teach a jazz class," she says. "I wasn't Ann Reinking."

Woodward-Clough eventually landed a job at the New York Health & Racquet Club. Before long, the owner asked her if she was interested in starting a ballroom dance program.

"I did, and it was hugely successful," she recalls. "At one point, I had a staff of eight and classes at every single club (branch)."

Woodward-Clough also did choreography at that time for some summer stock productions. She appeared in commercials and MTV videos, was an extra in a few movies, on soap operas, "the whole thing," she says. "I had an agent. I did an exercise video. I got off-Broadway, but never on. I never became famous. But the whole time, I was realizing how much I loved teaching and choreographing."

Teaching ballroom dance became a full-time occupation for Woodward-Clough. After she and her husband decided to leave the city and move to Hightstown, where their daughter was born, she still commuted to Manhattan.

"But little by little, I started to teach out here," she says. "I put one simple ad in the paper and got a tremendous response. I started cutting down in Manhattan and picking up more and more classes here."

Over the years, Wooodward-Clough has taught beginner and intermediate ballroom classes, semi-private and private lessons. Business gets brisk around this time of year as wedding season approaches.

"It's a huge draw for parents of brides and grooms who want to look good at receptions. A lot of my business comes from weddings," she says.

Many of her students take the beginner-level classes more than once, while others move directly into the intermediate levels. Woodward-Clough has 15 different dances on her menu. She tends to stick with the classics.

"I try not to get involved with fads," she says. "Classic dances are really the ones that are going to last. Swing is always popular. As far as going to clubs, salsa and tango are hot with the younger people. The older ones want the foxtrot, maybe a rumba. And the merengue is popular, too."

Most couples attend Woodward-Clough's classes as a way to experience something new together.

"It's good exercise. It's non-impact, and it's an interesting dynamic between couples," she says. "I don't approach the competition end of it at all, and I have very mixed feelings about that. I think that creates a lot of negative energy. My students are in it for the fun."

Dancing by the Peddie Lake sessions will start tomorrow at 112 Etra Road, Hightstown with swing on Mondays and Latin dance on Wednesdays. 7:30 p.m. for beginners, 8:30 p.m. for intermediates. $80 per couple. 732 995 4284 .

Ballroom, Swing & Latin Dancing

with Candace Woodward-Clough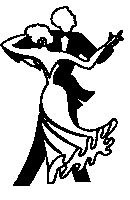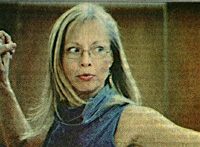 Ellen, left, of Hopewell, assists Candace during dance lessons at the YMCA in Princeton.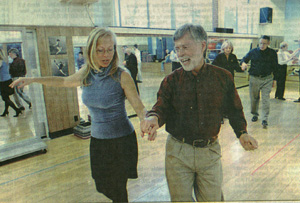 Candace Woodward-Clough, left, shows Ed Wendell of Princeton some steps during lessons at the YMCA of Princeton

Candace emphasizes a point

  WASHINGTON - By day, the cafeteria of the Pond Road Middle School is filled with the clamor of hungry adolescents, but on Monday nights it serves as a makeshift ballroom of sorts for area residents working to perfect dances such as the waltz, fox trot or tango.

  For the first time, the Washington Township Recreation Department is offering adult dance classes. Ballroom and Latin dance classes are being held at the middle school in Washington and will run for four weeks.

  "Parents, adults are really busy. This is a way for them to spend an hour together and have some fun," Washington Township Recreation Director Chris Merias said.

  The first class, held from 7:30 to 8:30 p.m., covers the basics of ballroom dancing and teaches steps for the fox trot, waltz and the principles of swing dancing. The second class from 8:30 to 9:30 p.m. features instruction on Latin dances, including the rumba, meringue, cha-cha, mambo, samba and tango.

  Dance instructor Candace Woodward-Clough, who teaches both classes, said the most difficult part of learning to dance for couples is leading and following. She said men often have trouble leading because they are insecure about their dancing abilities and that women have trouble following because they are often used to being the ones in control.

  "They have little battles," she said jokingly of the couples.

  Ms. Woodward-Clough has been a freelance dance teacher since 1976 and was founder and ballroom dance director at New York Health & Racquet Club, where she worked for 15 years. She teaches group and private lessons for ballroom, swing and Latin dancing and is also a resident choreographer and dance director at The Peddie School and Hightstown High School.

  Ms. Woodward-Clough likes to describe her as job as part dance teacher, part marriage counselor and said that many couples decide to take classes because they often grow tired of having to sit out dances at weddings and parties.

  "It's a fun activity for couples. It's good for your health and it's cheap," she said.

  A few of the couples present affirmed that they had taken the class with a special occasion in mind, including Robbinsville residents Jason Magby and Lauren Walerski, who said that they plan to dance at their upcoming wedding in June.

  Rochelle Lee of East Windsor said that she and her husband, Richard, had also taken the class in part because of their daughter's upcoming wedding.

  "There will be so many young people there, I will laugh if there's no dances like the waltz that we can actually dance to," Ms. Lee joked.

  Windsor residents Laura and Mike Friedman decided to sign up for the class with another couple. While their friends were ultimately not able to attend, the Friedmans decided to try the lessons anyway.

  The couple said they are enjoying the class and plan to use they skills are learning to go dancing in the future.

  "I have been asking him to do this for 23 years," Mrs. Friedman said of her husband.

  Mr. Friedman said that he enjoyed swing the most out of all the music the students danced to but said that swing dancing is the most difficult form that they are learning.

  "I'm just not that coordinated," he said.

  Robbinsville resident Jim Pankiewicz, who is attending the class with his wife, Nancy, expressed similar sentiments.

  "I'm clueless," he said. "But everyone is a beginner so it's OK," he added.

  Ms. Woodward-Clough said she has also frequently encountered students, mainly men, who are fond of using the aphorism, "I have two left feet."

  "It's just not true," she argued.

  She maintains that she has never had a student who could not learn to dance.

  "If you can shift weight, you can dance. If you can walk, you can dance," she said. "It's just like sports, you have to practice."

  Other students enrolled in the class, like Pat and Larry Richards of Hamilton, have taken dance classes before but are taking them again in order to "freshen up" their skills.

  "It's good because even though there are large number of students in the class, you are still able to get individual attention," Ms. Richards said.

  Ed and Kim Keenan of Robbinsville said they took dance classes about eight or nine years ago but have not been able to practice their skills since.

  "We're enjoying ourselves," Mr. Keenan said of the class.

  Some of the students also made reference to the popular ABC television show, "Dancing With the Stars," where celebrities team up with professional dancers to compete in a dance competition. The second season of the show had its finale Sunday evening.

  "I want to dance like Stacy Keibler," Ms. Lee quipped, referring to the tow-headed pro wrestler who made it to the finals of the show.

  Ms. Woodward-Clough said she had not been a fan of the show's first season but had recently been able to watch the second season and thought "they did a really nice job."

  Ms. Woodward-Clough has competed during her career but said she prefers to focus on teaching the more relaxed social aspects of dances. She also said that the show's popularity has helped her business.

  "Television has a tremendous effect on people. People who would not commit to learning before are now trying it out," she noted.

   Ms. Woodward-Clough will begin another session of dance classes April 24. For more information, visit the township's Web site at www.washington-twp.org. The cost is $65 for Washington residents and $75 for nonresidents.

Couples go toe to toe in dance classes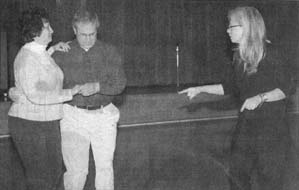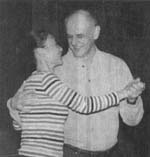 Washington Recreation Department offering courses in ballroom dancing

03/02/2006

By: Katie Jasion

Staff Writer,

The Messenger Press

Above left, Paul and Qi Reichl of Robbinsville practice at Monday night's ballroom dance class at Pond Road Middle School; dance instructor Candace Woodward-Clough helps Tom and Eilleen Tresansky of Robbinsville with a lesson.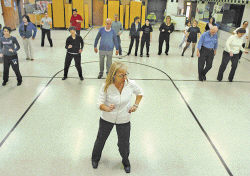 03/27/2007

By  CHRIS KELLY, Examiner Staff Writer

(Allentown-Millstone-Roosevelt-Upper Freehold)

Hightstown's Candace Woodward-Clough leads a dance class at the Millstone Township Middle School on March 12.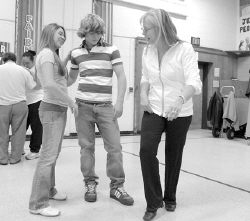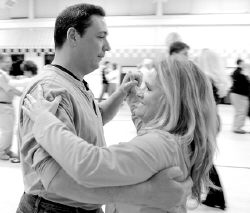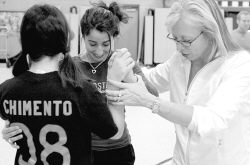 Dance instructor Candace Woodward-Clough, of Hightstown, helps Jackson's Rachel Nappi and Allentown's Brennen Neaburger (left photo) with some swing dance steps during a class sponsored by Millstone Township Community Education at the Millstone Township Middle School on March 12. Millstone Township's John and Shirley Petrella (lower left photo) practice the waltz. Millstone Township's Angelica Parmegiani, 16, (bottom photo) and Marissa Chimento, 16, (bottom photo) learn the hand and foot positions for salsa dancing.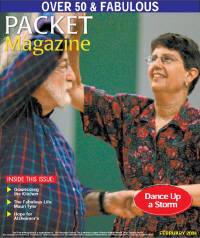 So You Think You Can Dance?

    Candace Woodward-Clough, a Hightstown resident who has been teaching dance for 30 years, says interest has recently increased, thanks to reality television shows and special occasions, such as weddings and Sweet 16 parties.

     "Business is definitely up."   


Feb. 2008 By Kristin Boyd, Staff Writer, Packet Magazine

Bob Melman & Linda Gochfeld

November2013

Candace Woodward-Clough dancers doing a swing routine at the German Club.  Vocal by Bruce Clough

January 2013

Candace Woodward-Clough teaching the American Tango

Candace interviewed on Spotlight New Jersey - News 12